We are a creative church with a heart for Austin! We meet at a unique time just for you! We believe you were created to DREAM! We know God loves transforming the lives of broken dreamers into something beautiful beyond recognition. Our passion is to see that transformation happen over and over in the lives of people here in Austin!
We gather in-person and online on Sundays at 10:00 AM & 11:45 AM. Our services start with praise and worship, followed by a life-giving message centered around the Bible. There is time for coffee and hanging out after service if you want to linger and get to know people.

NO need to register or reserve your seat. But keep in mind that seating capacity is limited in order to follow local guidelines, so please arrive early as you attend our in-person experience.

Let's all remember to invite some friends that normally wouldn't attend church, and come expecting to encounter God.
DO YOU SERVE COFFEE?
Yep. Not espresso… yet. But we have some pretty decent drip coffee. Come a few minutes early and grab yourself a free cup before you head into the auditorium.

WHAT ABOUT MY KIDS?
They are going to LOVE our Dreamer's Kids Ministry! You can register online and save some time waiting in a line on Sunday afternoon. It will give you a little more time to make some new friends.

DO YOU HAVE SMALL GROUPS?
Yes! We have three semesters of small groups where people get together around an activity or topic with the intention of encouraging each other and helping one another grow in our faith. You can sign up at church in the connect center.

HOW DO I MEET PEOPLE?
Trying to figure out if this is your church home? We get it. Our Next Steps class was created to help you get the answers you are looking for about who we are, what we believe, and how to get connected. Childcare is provided. The first class is every Sunday 10 minutes after our service.

WHAT KIND OF MUSIC DO YOU PLAY?
Our songs are current, upbeat, and celebratory in nature. We like to praise and worship to glorify God.

HOW LONG IS THE SERVICE?
Our service is about an hour and ten minutes long. We have prayer from 9:30 to 9:45 AM, followed by 15 minutes of fellowship before the main service starts.

WHAT SHOULD I WEAR?
Most people wear jeans at our church, including the pastors.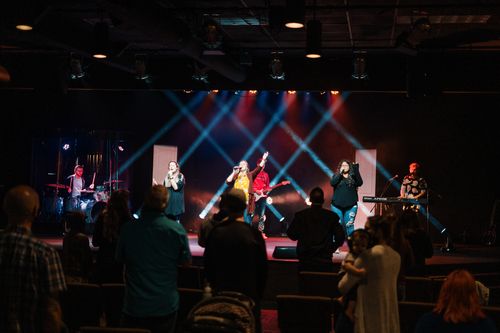 We'd love to hear from you. Fill out the form below to get started.